Study in United Kingdom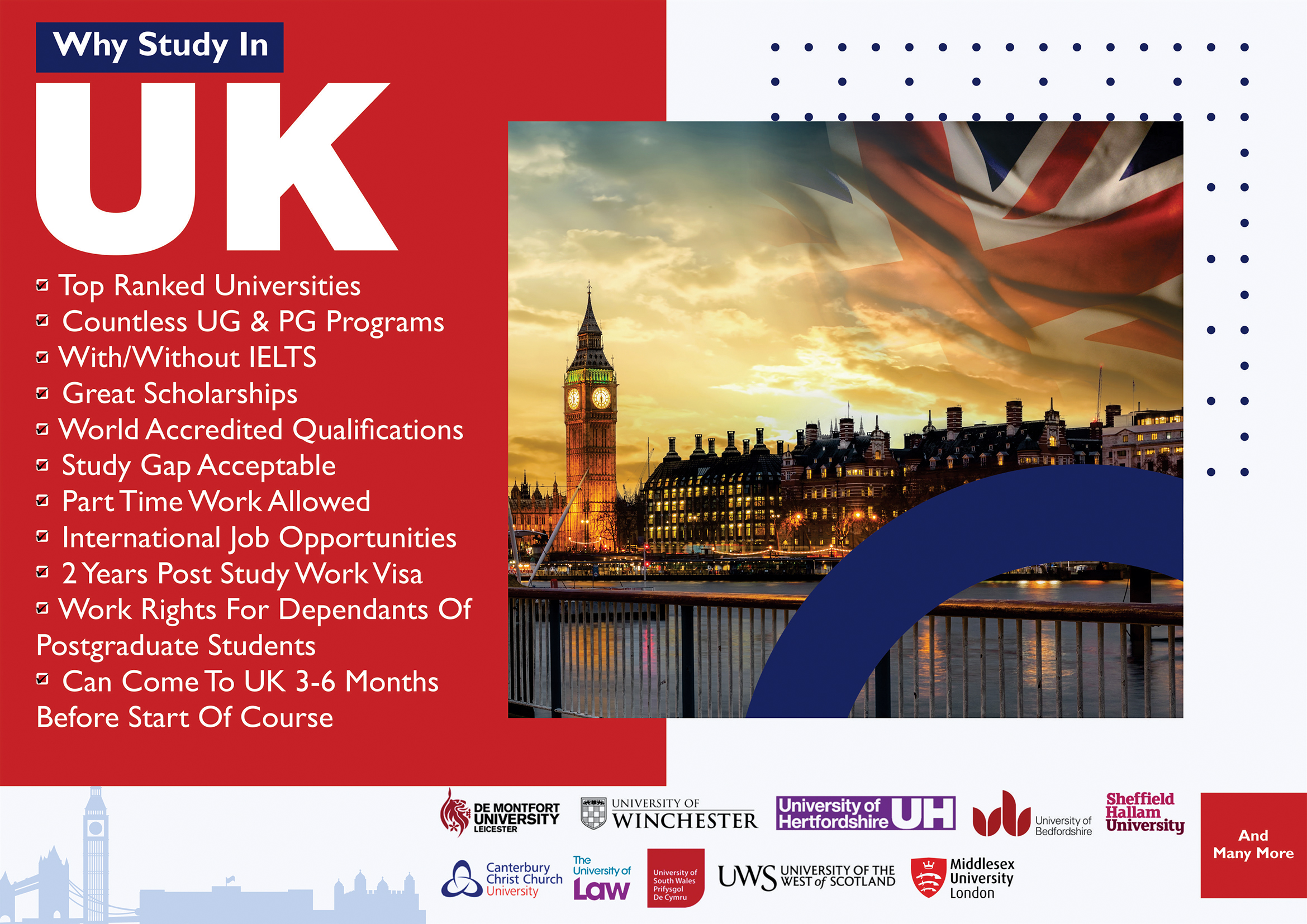 The United Kingdom of Great Britain and Northern Ireland,commonly known as the United Kingdom (UK) and Britain, is a sovereign state located off the north-western coast of continental Europe. The country includes the island of Great Britain, the north-eastern part of the island of Ireland, and many smaller islands. Northern Ireland is the only part of the UK that shares a land border with another state is the Republic of Ireland. Apart from this land border, the UK is surrounded by the Atlantic Ocean in the west and north, the North Sea in the east, the English Channel in the south and the Irish Sea in the west.
The form of government is a constitutional monarchy with a parliamentary system. The capital city is London. The UK consists of four constituent countries: England, Scotland, Wales and Northern Ireland. The latter three have devolved administrations, each with varying powers, based in their capital cities, Edinburgh, Cardiff and Belfast respectively. The UK is a developed country and has the world's sixth-largest economy by nominal GDP. It was the world's first industrialized country
Climate
The United Kingdom has a temperate climate, with plentiful rainfall all year round.The temperature varies with the seasons seldom dropping below -11 °C or rising above 35 °C. The prevailing wind is from the south-west and bears frequent spells of mild and wet weather from the Atlantic Ocean, although the eastern parts are mostly sheltered from this wind—as the majority of the rain falls over the western regions the eastern parts are therefore the driest. Atlantic currents, warmed by the Gulf Stream, bring mild winters; especially in the west where winters are wet and even more so over high ground. Summers are warmest in the south-east of England, being closest to the European mainland, and coolest in the north. Heavy snowfall can occur in winter and early spring on high ground, and occasionally settles to great depth away from the hills.
Why Study In UK
UK offers wealth of education possibilities
UK is forefront of scientific and creative innovation.
Excellent reputation – leading to recognized qualification
Low dropout rates are distinguishing feature of the UK system.
28 days Bank Statement required
Universities on Our Panel